The party's over, the fat chilehead has sung, and another National Fiery Foods & Barbecue Show is behind us. The 24th annual show welcomed over 17,500 trade and general public attendees to the Sandia Resort & Casino, an increase of 3,500 from the previous year. Exhibitors showcasing everything from hand-ground mustard to sugar-free mojito mixes said they benefitted from the increased turnout. Here are a few Albuquerque-based exhibitor success stories from the show…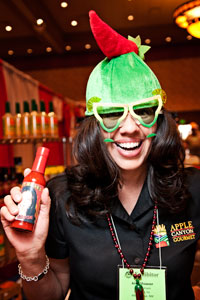 Long-time Fiery Foods Show exhibitor and Apple Canyon Gourmet founder Anna Shawver said her booth sold out of their Santa Fe Mixes Sunset Margarita Mix on all three days. Their new Prickly Pear Margarita Mix was also a big hit with attendees. "We sold more wholesale orders and obtained more wholesale leads this year," said Shawver. The Apple Canyon Gourmet family of brands include Santa Fe Mixes, Santa Fe Seasons, Comida Loca Soup Mixes and Holy Chipotle!, all of which are locally manufactured at a facility just minutes from Sandia Resort & Casino.
Family-owned Lusty Monk Mustards said they sold nearly 700 jars of product at the 2012 Fiery Foods Show, a 17 percent increase over last year. Owners Steve and Kris Monteith expanded their operations from Asheville, North Carolina to Albuquerque in 2008, producing small batches out of the South Valley Economic Development Center (SVEDC) kitchen. The product line includes Original Sin, an old-style coarse-ground original recipe mustard with a kick, Burn in Hell which features a smoky bite of chipotle, and Altar Boy Honey Mustard. They already have their booth reserved for the 2013 show. "The Fiery Foods Show has been great for us, with lots of returning customers each year," said Kris Monteith. "We also met great vendors and made fabulous in and out-of-state contacts."
AlbuqCOOKIE founder and owner Stephen Hoffman said 2012 was his best year yet at the Fiery Foods Show. "We sold out our inventory of 320 bags at the end of the second day, and practically sold out the third day," said Hoffman. Made by hand with simple, real ingredients, AlbuqCOOKIE's lineup includes Green Chile Pecan Sandia Cookies and Leah Rosie's Chocolate Pepper Chile Cookies. The Albuquerque original also got their start at the SVEDC and is now available at several local grocers including La Montanita Co-Ops in Albuquerque and Santa Fe. Hoffman said they secured two new store locations this weekend, including their first-ever outside New Mexico.
Fiery Foods & Barbecue Show Sponsors