Hot! A Film by Heimo Aga
$5.99
Description
[wppv product_id="3692″ width="100%" height="auto"]
Undeniably, there's a worldwide trend towards spicier food. There are more and more chili-specialized farms, producers, online shops, forums, blogs, festivals and competitions. There's a quest to develop the World's hottest chili, to distill the hottest hot sauce, to eat the biggest amount of super hot chilis in the shortest time. Chilis have become a real superfood in countless shapes, colors and flavors: a kind of global warming, but in a good way join our epic journey to the hottest festivals, anecdotes and recipes around the World, and listen to experts and chili heads like: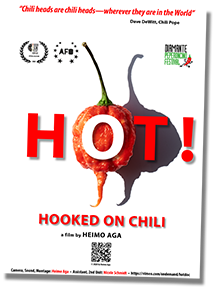 Dave DeWitt, "Pope of Peppers" and founder of the Fiery Foods Show
Sohyi Kim, Korean master chef
Dejian Li, President of the World Chilli Alliance and China's biggest chili processor
Enzo Monaco, founder of the Accademia Italiana del Peperoncino
Erich and Priska Stekovics, Austria's biggest chili farmers
Josef Zotter, innovative chocolate maker
---
After purchasing the video, you will be emailed a license key that will activate the video player. You can watch the video as many times as you like for 48 hours after using your license key.